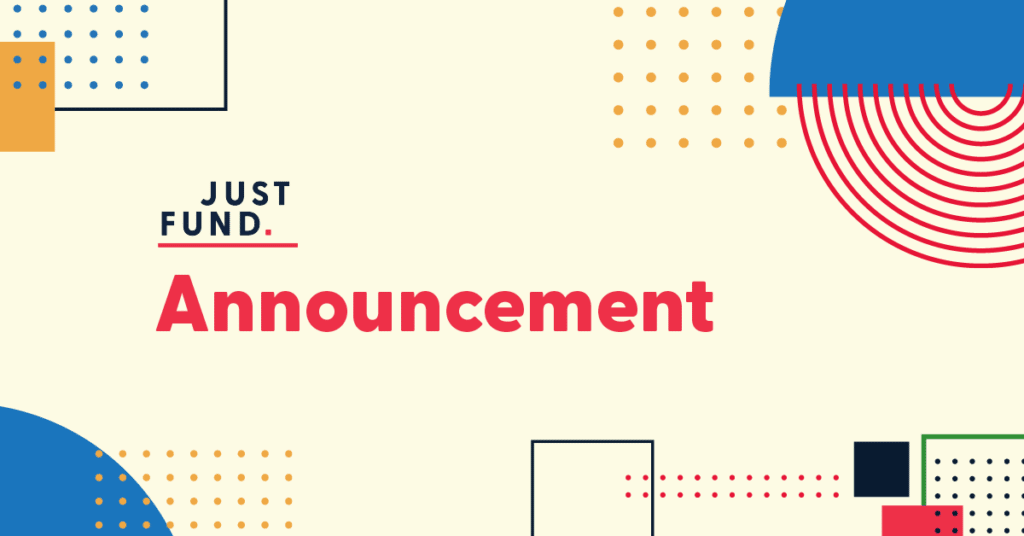 JustFund Announces Afi Tengue as Organization First Director of Donor Engagement
Tengue Makes Her Move to JustFund from Giving Compass, Marking the First of Several Senior Hires for the Fast-Growing Nonprofit Grantmaking Platform.
__
SAN FRANCISCO, September 1, 2022—JustFund, the first and only nonprofit grantmaking platform created by funders and organizers of color, announced today a major milestone in its mission for equitable grantmaking: the hire of Afi Tengue as JustFund's first Director of Donor Engagement.
Since the platform's launch in 2017, JustFund has helped more than one thousand funders move over $170 million to more than five thousand organizations working at the heart of racial justice, environmental justice and every issue in between. JustFunders—funders such as Donors of Color Network, Decolonizing Wealth, Amplify Fund, and The Emergent Fund—are transforming philanthropy by adopting an equitable solution to move more money, more seamlessly to chronically underfunded Black, Indigenous, and people-of-color (BIPOC) communities.
"People want to make the most of their philanthropy, but don't always know the mechanism to achieve the impact they imagine," said Iara Peng, Founder and CEO of JustFund. "JustFund is in the business of helping funders streamline their giving and make it simple and easy to seek and distribute resources, all while centering equity and trust in the process. Now, with philanthropy expert Afi Tengue leading donor engagement efforts for JustFund, we can take our work and our impact to new levels."
Tengue comes to JustFund from Giving Compass, where she served as Vice President of Philanthropy and Impact. In her new role at JustFund, Tengue will work directly with individual donors in the rapidly expanding JustFund network to move money in a way that aligns with their values, funding BIPOC-led organizations working on the frontlines. Operating with a values-aligned approach, JustFund remains the only grantmaking platform that allows funders to transparently track how they are moving money in community with other funders.
"We are thrilled to have Afi joining us from Giving Compass—an organization with whom we share a long and strong partnership. We anticipate there will be many natural ways for her to continue interacting with the Giving Compass community through in-the-works donor education pilots and programming," said Peng.
JustFund has experienced significant growth in the organization's first five years, and to continue this impactful path, JustFund is gearing up to make a sizable dent in moving the $142 billion currently sitting in donor advised funds. This next phase requires a sharp and focused individual donor strategy, which will be led by Tengue.
"Joining JustFund is a thrilling opportunity to elevate narratives and solutions from BIPOC-led movements to values-aligned donor networks in non-extractive ways," said Tengue. "There is truly nothing else like JustFund in the philanthropic field. It's a place where donors can come together to learn, partner, and give with a direct mechanism to empty the $142 billion in donor advised funds just waiting to fuel movements. We're at a critical moment in our democracy, and I'm eager to be a part of JustFund's unique mission as we fund BIPOC-led advocacy at scale with the urgency needed."
JustFund's human-centered approach to grantmaking ensures grantmakers can move critical resources in a values-aligned, trust-centered, and equitable way. Through its signature common proposal, expert support, and seamless process, JustFund has moved $170 million to-date in a timely way to organizations, most of whom have been historically excluded from traditional philanthropy, which has become an increasingly expensive and exclusionary process.
JustFund also supports multiple decision making models and drastically expands charitable organizations' access to new financial resources, allowing them to apply their common proposal to dozens of additional funding opportunities. JustFund's common portal uniquely aggregates proposals into a searchable database made available to individual donors, donor advisors, and foundation staff to "find and fund" new organizations.
With Tengue's leadership, JustFund plans to expand its membership and service offerings to individual donors, creating an even stronger community of JustFunders committed to moving more money to movements.
__
About JustFund
JustFund, the only nonprofit grantmaking platform created by funders and organizers of color, streamlines the grantmaking process and makes the ability to seek and distribute funds simple, easy, and equitable. Committed to resetting philanthropy, JustFund is disrupting old models of giving and building new ones that are values-aligned, trust-based, and rooted in equity. Learn more about JustFund on its website: justfund.us.