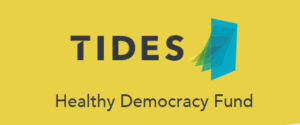 Tides Foundation - Healthy Democracy Fund - Letter of Inquiry
About
The primary purpose of the fund is to close the voter turnout gap and defend the voting rights of communities of color, young voters, and the economically disadvantaged. Our grantmaking has provided general support, as well as capacity-building for local campaigns, lifting up community power-building and local leadership strategies, fostering sustainable innovation and tools that drive civic engagement, helping reverse and dismantle voter suppression, voter insecurity, and expanding stronger pro-voter policies.
To achieve these goals, HDF is focusing on the following interconnected strategic areas of work:
✔      Voter Engagement, Registration, and Turnout - funding community-based organizations that will be around for the long haul - educating, organizing, and engaging year-round, mobilizing underrepresented and low-propensity communities to register and turn out to vote, and working to restore the voting rights of formerly incarcerated persons.
✔      Advancing and Protecting Voting Rights & Fair Redistricting - supporting grantees to fight the ongoing wave of voter suppression measures, including legal battles defending against voter suppression laws targeting people of color, and fair political maps and equal representation.
 ✔      Fighting Disinformation – supporting groups that are providing communities of color and young people with creative, accurate content and culturally and regionally-relevant messaging on key issues while holding elected officials and media companies more accountable for the information they spread.
✔      Emerging Threats – HDF will stay attuned to emerging threats to our democracy and make targeted grants as appropriate that will aid in efforts to close the voter turnout gap and protect the voting rights.
Eligibility
HDF prioritizes funding multi-issue, civic engagement BIPOC-led organizations that are community-led and community-driven, focusing on states where there are opportunities for election protection, helping to dismantle voter suppression and disinformation, and are building long-term capacity and local leadership sustainability. Our focus states include: AZ, GA, NC, MI, MN, WI, PA, NV, OH, TX, VA, and FL.
Key Dates
Proposals will be accepted on a rolling basis
Application
Begin by registering for a JustFund account. Once your registration is approved, you will receive an email with your login credentials. If you have an existing JustFund account, but you cannot remember your password, click here to reset your password.
JustFund offers a common proposal model designed to save organizations time.
For questions about how to submit your proposal, please refer to JustFund's Help Center or contact [email protected].
JustFund's Common Proposal Narrative Questions (Required)
Proposal Summary (max 140 characters): Think of this like a tweet. Please tell us about the mission of this proposal in a couple of sentences.
Proposal Description (recommended 2500 - 3500 characters): Tell us about your proposal.
Team Description (recommended 1250 - 2500 characters): Tell us about who comprises the team.
Financial Need (recommended 1250 - 2500 characters): Please describe what you will use the funding for.
Supplemental Questions
HDF will fund general support whenever possible. However, we want to know what specific voter access/voter suppression challenge(s) you are looking to address? How will you do it? List any partners you will work with (if applicable). What is your timeline?
Attachments
Please submit your civic engagement budget and existing gap. Please separate C3 and C4 activities if applicable.
Contact Information
Name: HDF Team
Email: [email protected]
Website: https://www.tides.org/campaigns/healthy-democracy-fund/
Twitter: https://twitter.com/tidescommunity